Thermometer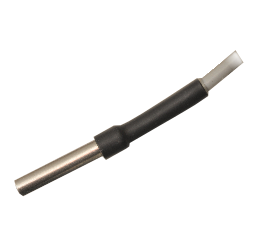 The iTriangle - Thermometer has a waterproof probe suitable for temperature detection immersed in water and a 2-m long wire. The chip inside this sensor is DS18B20, which is widely used.
The original version has three wires inside. To get it working with iTriangle, you need to add extra resistance. We have adjusted this sensor with extra resistance and a connection port so it can be used as a regular iTriangle sensor. This makes it easy to connect a one wire temperature sensor for Seeeduino, which is derived from Arduino and compatible with all Arduino platforms.
For convenience, we have listed some resources at the bottom of this page. You can also find many resources from Google or other OSHW communities.
The cable cannot be subjected to temperatures over 70 °C for extended periods.
Features
Requires only one wire for data interface
Waterproof
iTriangle compatible
Accepts 3.0–5.5 V power supply
Wide temperature sensitivity range: -55 °C to +125 °C
High accuracy: ±0.5 °C (-10 °C to +85 °C)